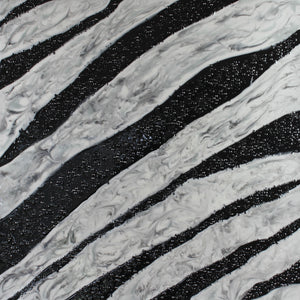 This simply stunning resin abstract painting from was created using Wendy's innovative techniques using layer upon layer of resin to create a depth within this art work, this eye catching 3d piece is elegant black and white with a, using mixed medias, high quality pigments, and embellishments. The resin gives a sleek high gloss mirror like finish whilst also making the painting tough and long lasting would suit any decor. This eye-catching piece would compliment any room Signed on reverse. ready to hang
The zebra spirit animal is a symbol of harmony, balance, individuality, uniqueness, the opposites, independence, freedom, duality, fight, resistance, alertness, challenges, community, knowledge, energy, stamina, path, agility, protector, success, light and dark.
50cm x 50cm on deep canvas
Click on image to zoom in and see art work in all its glorious detail!