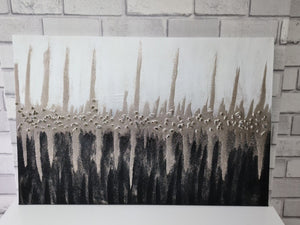 Manifestation
This lovely Acrylic & Resin abstract painting is in black, silvery golds and white with metallic shimmer, using mixed media,  clear quartz and pyrite crystals.
Pyrite is a very protective stone, shielding the user from negative energy of all kinds. ... Traditionally, Pyrite is known as a stone of luck, helping to attract abundance, wealth and prosperity, via its creative energies of manifestation, and its encouragement of following one's dreams. Pyrite is a very positive stone to be used when you are feeling less than adequate. Place a piece at work and you will soon notice a change in energy ideas flow your mental activity is accelerated and accentuated it is said to increase the oxygen supply to the blood and aid the circulatory system it inspires courage and confidence and protects from negative energy, it aids the memory and helpful with disorders of the lungs
Clear quartz  is considered the master healer it's a true energiser crystal it raises the vibration and opens up the channels for healing and communication,." It's said to amplify energy by absorbing, storing, releasing, and regulating it. It's also said to aid concentration and memory. Physically, clear crystals are claimed to help stimulate the immune system and balance out your entire body, balancing all the chakras.
30" x 20"x 76.2cmx50.8cm on canvas
This can be framed - additional cost will apply
Click on image to zoom in and see art work in all its glorious detail!