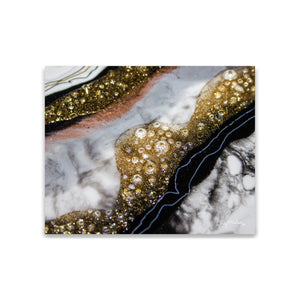 Alchemy frequency wall art in black, gold, and whites evokes a sense of luxurious and transformative beauty. The interplay of these opulent colors suggests a fusion of elegance and mystery, with black symbolizing depth and the unknown, gold representing opulence and sophistication, and whites offering purity and clarity. This alchemical blend creates a visual symphony that not only beautifies your space but also emanates frequencies of transformation and refinement.
Wendy's canvases are printed in a gloss finish to show her resin artwork off to its full potential, Wendy's art is guaranteed to draw the eye and pull together your space, this statement piece will be the talking point of any room, relax and enjoy your art as it takes centre stage.
Available in various sizes with several designs from each collection, there's something to suit any style or space. Other sizes available please ask
CANVAS ART SIZE GUIDE:
Choosing the right size of canvas for your room can be difficult to visualise, when in doubt, use Post-it notes to mark the corners of where you want your artwork.
As a general guide if hanging artwork above a sofa or headboard, select a piece that is 2/3 to 3/4 the width of the furniture.
If hanging above the fireplace, select an artwork larger than the fireplace opening, but smaller than the mantle.
SPECIFICATION:
Canvas Depth: 1.25" | 3.2cm
Stretched onto a renewable, knot-free, solid pine frame
Hand-finished and fitted with hanging fixtures and rubber bumpers to protect your walls from damage.
SHIPPING:

All our canvas wall art is made to order here in the UK, our shipping time is 3-5 working days and each canvas is dispatched to your chosen address on a tracked service for peace of mind.

Delivery 3-5 Days
Tracked Delivery on all Canvas Orders
RETURNS:
As many of my products are made to order, returns can only be accepted in the event the item(s) is faulty, or an error has been made on our part. If you deem the item(s) to be faulty, we advise you to Contact Us within 7 days of receiving the item(s).
Please do not return any item(s), without having contacted us directly first, as this could delay the process and/or result in being charged for the item(s) to be returned to you, should the item(s) not meet our returns agreement.
Please be sure of item(s), and colour choices before submitting your order as a change of mind cannot be accommodated after the item has been processed.
Any returns will be at the cost of the customer. We do recommend that all returns are sent via Recorded Delivery, as we cannot be held responsible if the item(s) is not received by our Returns Department. When returning an item(s), a detailed cover letter should be enclosed, which should contain a reason for the return and the order reference number. We offer either a credit to your account or an exchange for a product of the same value.
At Wendy McCallum Art, your enjoyment of our art is our priority.