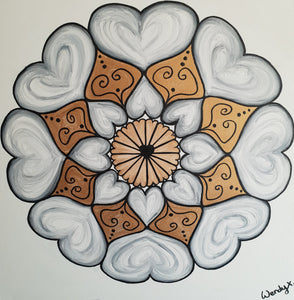 Alchemy of Abundance Mandala of Manifestation
Alchemy of Abundance: Using the Energy of Desire to Manifest Your Highest Vision, Power, and Purpose miracles can happen to you when you align your inner energies, passion, creativity, attention, and will with the power of the universe
manifest your unique purpose, goals, find balance freedom and harmony
This beautiful mandala was channelled the energy is simply beautiful and connects with the higher self helping you to move past your own mind  connecting with source energy to help you find manifest and find answers through the power of meditation. connecting with source energy, your higher self.

These are great used for meditation, manifestation and as crystal grids to manifest and enhance the energy with crystals.

 Crystal grids Are incredibly powerful healing tools, they are a beautiful way to manifest your dreams goals and intentions.  The power of a crystal grid comes from combined energies of the crystals you use, how you place them and the intentions you set. My angels and mandalas can be used with crystals as crystal grids.
 Keep in mind the Angels and the universe provide us with what we need, not always what we want, its better to manifest and focus on what we need not just about what we want. 
 Common intentions for crystal grids are for well being, abundance healing and protection.
Crystal grids not only look beautiful but they uplift the energy in any space. They can be used for healing in person, distant healing, manifesting, ritual work, meditation, intention setting practices or simply as a creative endeavour and for protection.